Dump Truck Hire Sydney (10T Capacity)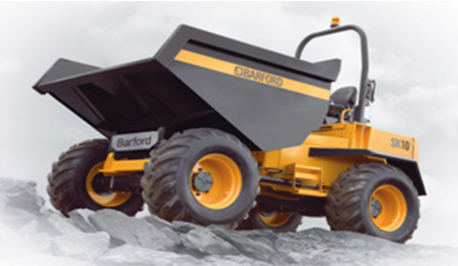 Dump Truck Hire Overview
Barford SK10 Front Tip Mini Articulated Site Dumpers For Hire
Earth Moving Hire Australia, provides a specialised fleet of late model articulated all terrain site dumper trucks with rotating swivel and front tip skip bins ideally suited for difficult access all terrain sites.
Boost your earth moving efficiency with Barford's SK10, the 'true' 10 tonne site dumper. Powered by a 94kw turbo charged, inter-cooled engine, the SK10 sets new standards in productivity, surpassing smaller site dumpers in its stride. Heavy duty axles and a rigid chassis work in harmony with high floatation tyres to maximise traction in difficult terrain.
Dump Truck Hire Specifications
Engine Make & Model: Iveco N45 MNTD 94kW @ 2300rpm
Gross Power: 4485cc
Number of Cylinders: 6
Transmission: Powershuttle transmission, 4 speeds forward and reverse with torque converter. Heavy duty drive train.
Axles & Brakes: Heavy duty double reduction axles with totally enclosed oil immersed disc brakes.
Fuel Capacity: 68L
Hydraulic System Fluid Capacity: 40L
Wheels & Tyres: 500/60 – 22.5 High ¬floatation tyres 16 ply
Road speed kph:
1st gear: 4.8
2nd gear: 7.8
3rd gear: 14.7
4th gear: 26.8
Dimensions and Operating Weight of the 10T Dump Truck
Overall length – 4466 mm
Overall height – ROPS up – 3246 mm
Overall height – ROPS down –2308 mm
Overall height – skip tipped –2565 mm
Prow height –1787 mm
Tipped prow height – 246 mm
Side loading height – 2167 mm
Wheel base – 2400 mm
Ground clearance – 440 mm
Overall width – 2485 mm
Width over tyres – 2430 mm
Outer turning circle – 13 metres