Dump Truck Hire Sydney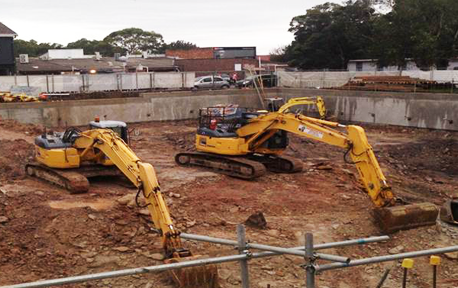 Dump Truck Hire and Site Dumper Sydney
Australia's Leading Earthmoving Hire Specialists in Excavator Hire, Digger Hire, Site Dumpers, Dump Trucks and Water Cart Hire Sydney wide.
Earthmoving Hire Australia owns and operates a fleet of specialised heavy duty articulated all terrain site dumper vehicles and dump trucks including 3 tonne, 6 tonne, 9 tonne and 10 tonne capacity rotating and straight tip skip bin trucks. All our dump truck hire vehicles are equipped with RTA conditional registration which provides the added advantage of access onto public roads during general work activities.
Our Site Dumpers and dump trucks are primarily used for management of excavated soil and imported fill materials on site including stockpiling and backfilling activities. Due to the compact design and all terrain capabilities enabling entry into narrow difficult access areas, site dumpers can also be used for backfilling of narrow trenches and operation in wet and muddy site conditions where two wheel drive equipment would be unable to operate. Other advantages include minimising potential environmental degradation in comparison to conventional trucks. Added features including clear 360 degree operator view, less manoeuvring and high traction flotation tyres collectively assist in achieving this successfully.
Earth Moving Hire Australia have recently modified the external cosmetics of our site dumper hire fleet following continued interest from our clients operating the dumpers in harsh coastal environments which are prone to high wind and both dusty and wet conditions. As a result, custom made removable storm covers made from high grade translucent marine fabric have been installed around the cabin area. These covers fully enclose the cabin area providing a waterproof enclosure, do not obscure normal visibility and full zippers allow easy removal and installation of covers at any stage.
Earth Moving Hire Australia also has a wide range of other articulated mini dump truck models available for hire, so please contact us today with all of your dump truck site dumper hire needs for a free no-obligation dump truck rental quote Sydney, Wollongong, Newcastle and Australia wide.
Contact the expert team at Earth Moving Hire Australia today on 0421 029 279 for all your Excavator, Site Dumper and Water Cart hire needs. Or send us an email at info@earthmovinghireaustralia.com.au