Water Cart Hire Sydney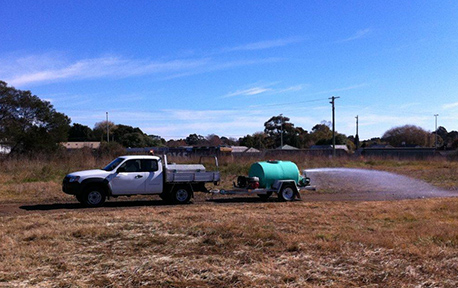 Water Cart Hire Sydney
Water Cart hire and Water trailer hire Sydney Australia
Australia's Leading Earthmoving Hire Specialists in Excavator Hire, Digger Hire, Site Dumpers, Dump Trucks and Water Cart Hire Sydney wide.
Water Cart Hire and Water trailer Hire Overview
Earth Moving Hire Australia has a specially engineered fleet of 1500 litre water cart and 3000 litre water cart spray & service trailer units, suitable for dry hire Sydney, Newcastle, Central Coast, Wollongong and Australia Wide
Large Water cart trucks are often underutilised on site and considerably more expensive to hire, making our water trailer units a very cost effective option for dust suppression on any construction site.
The water trailer hire units are fitted with a rear mounted high volume low pressure pump, spray bar, dribble bar and 30m fire fighting extension hose reel for dust suppression on haul roads and general cleaning of site equipment, landscaping etc. The trailer is also equipped with a front mounted low volume high pressure water pump, extension hose reel and spray nozzle for heavy duty cleaning and hand held dust suppression in situations which require low water output such as environmental site remediation works.
In addition, a 200 litre diesel tank with electric pump and flow meter is mounted at the front of the trailer for refuelling activities on site. A further advantage of the water trailer carts for hire, is that it can be towed by conventional four wheel drive and light tipper truck vehicles on site.
Contact the expert team at Earth Moving Hire Australia today on 0421 029 279 for all your Excavator, Site Dumper and Water Cart hire needs. Or send us an email at info@earthmovinghireaustralia.com.au