Projects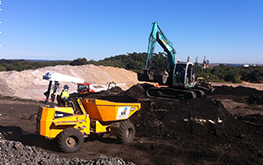 Caltex Refinery
Caltex Australia Project: SPA Limestone Catalyst, Site Remediation Works, Including Material Treatment and Onsite Burial within Engineered Containment Cells, Caltex Refinery, Kurnell Earthmoving Hire.
Earthmoving Hire Australia was contracted at the Caltex Refinery Fuel Facility, Kurnell to supply earthmoving equipment including two (2) 9 Tonne capacity articulated mini swivel dump trucks and two (2) 25 Tonne capacity zero swing excavators for a duration of approximately 3 months.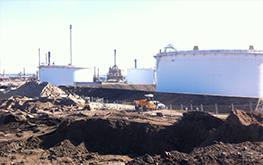 The project involved site remediation and construction works of a former SPA Catalyst disposal area at the refinery. The excavated catalyst required onsite treatment with lime prior to onsite burial into a purpose designed onsite containment cell area. Following treatment and placement of the material into the cell areas, the site was capped and landscaped.
The dump trucks and excavators were used for excavation and onsite relocation of contaminated catalyst materials for treatment. Subsequent to the treatment process, the materials were located into the dumpers and placed into the containment cell areas. The 180 degree swivel bins were very useful for accurate material placement in the tight access cell areas and the all-wheel drive capabilities meant minimal project delays due to wet weather conditions.