Projects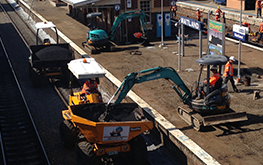 Sydney Trains Maitland
Sydney Trains Project: Maitland Train Station Shutdown, Platform Upgrade Works Including Removal of Platform Surface and Infrastructure and Replacement.
Earthmoving Hire Australia was contracted at the Sydney Trains Maitland Station to supply earthmoving equipment including one 9 Tonne capacity and one ten Tonne capacity articulated mini swivel dump trucks and two (2) 8 Tonne capacity excavators as part of a weekend shutdown program for platform upgrade works.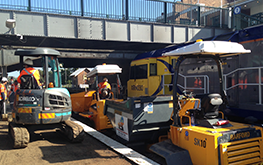 The project involved removal of existing platform pavements and infrastructure following by replacement of pavements, textiles and new infrastructure installations such as power poles, lights, signage and furniture.
The dump trucks and excavators were used for detailed excavation of pavement surfaces and loading of waste materials into dump trucks for relocation to spoil load out area which could be accessed by bogie transport trucks for offsite disposal. Subsequent to the removal of waste materials, new asphalt was transported to the platform area with the dumpers and placed onto the platform surface by the excavators.
The light weight dumpers and excavators were an ideal choice due to the tight access of the work area and the requirement to travel along the rail corridor with minimal disturbance to the rail tracks.